Is life Insurance that Crucial for Young Professionals?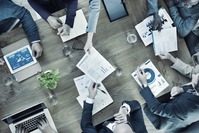 Two young clients met with a life insurance specialist as part of the comprehensive financial planning process in our private client practice. The extract of the email below may be typical for healthy young high-income professionals as they weigh the need for life and medical insurance.
"We would like to get your perspective on life insurance. We are not able to convince ourselves that we need to spend $60k over the next 30 years for protection given that we are currently already covered by our employers. We don't intend to be self-employed anytime soon. Also if we must buy a life insurance policy, does whole life make more sense compared to a term policy? We understand that cash value products will give us a chance to recoup part of the premiums when we terminate the policy upon retirement?"
This was my reply to the couple based on my own experience before I became a financial planner.
If there was one serious "mistake" I made in my 30s, it was not purchasing my own life insurance. I was in senior executive roles with MNCs till I was 41 and relied on the employer's group life and medical benefits. Unexpectedly I decided to become self-employed in 1996. By then, I had cholesterol and adult onset of asthma. All my corporate benefits disappeared when I quit as CFO to pursue a career in financial planning as a self-employed professional. I paid $8K per year in premiums for $250K sum assured, with the loading by the insurer. I never thought in my wildest dreams that I would become self-employed. If I died till I became an employee again in 2003 (7 long years holding my breath), my wife would have had to sell the family home to pay off the $1.2M mortgage.
One of my existing clients, who is now 39, became my client in 2008 and purchased $500K life and $300K critical illness. She was diagnosed with lymphoma in 2010 and was able to claim the $300K for expenses covered with career changes. She is healthy now but is not insurable any more. She is well on her way to achieving financial independence and has private medical insurance if cancer or other medical issues crop up.
I strongly urge young professionals to take up the low cost term life and critical illness cover. Believe me, when you don't have the protection from an insurer, you will feel so regretful that you did not act on this important decision. Either one or both spouses may be in between jobs voluntarily or otherwise. If you have to deal with death or disease without insurance, you will have to dig into your own resources. This will have serious impact on your retirement plan and other financial goals. Seek advice and protect yourself. Learn from the experience of others. Regret has no place in our lives.